Lawrence Branchetti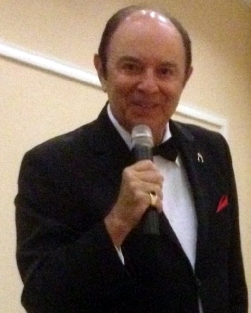 Branchetti at the ISDA Convention at the Margaritaville Hollywood Beach Resort
Lawrence Branchetti is an Italian/American entertainer who sings the classic songs of Gershwin, Cole Porter, Henry Mancini, and Johnny Mercer in the style of Dean Martin and Frank Sinatra. He has for many years given his personal time to support fund raising efforts and has proven himself to be a truly humane individual who has what it takes to set an example for Italian/Americans who want to carry on their proud tradition. Mr. Branchetti is not an impersonator. He is endorsed by the "Order Italian Sons and Daughters of America" (ISDA) to carry on the memory of Frank Sinatra and Dean Martin's music.
Branchetti has appeared on local and international television and syndicated radio shows and has been featured on the Denny Farrell Show Big Band Show out of Chicago and Dick Robinson's American Standards by the Sea.
To listen to audio samples: Click Here

San Rocco Festival 2001
Lawrence Branchetti and Thomas Branchetti San Rocco Festival 2001.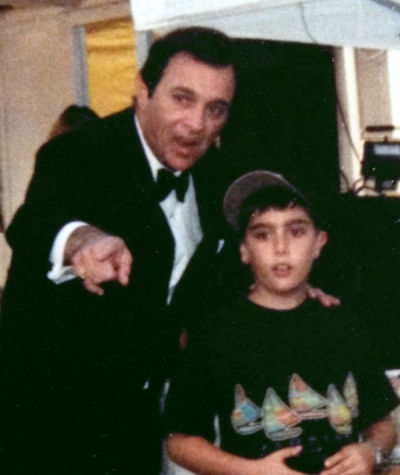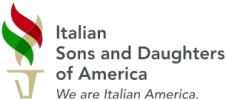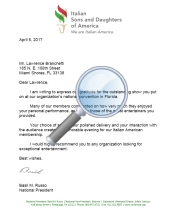 April 6, 2017
Dear Lawrence,
I am writing to express our gratitude for the outstanding show you put on at our organizationís national convention in Florida.
Many of our members commented on how very much they enjoyed your personal performance, as well as those of the guest entertainers you provided.
Your choice of songs, your polished delivery and your interaction with the audience created a memorable evening for our Italian American membership.
I would highly recommend you to any organization looking for exceptional entertainment.
Best wishes,
Basil M. Russo
National President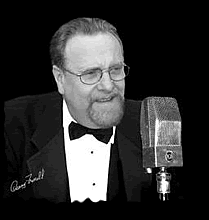 DENNY FARRELL.COM
The Original Big Band Showcase
Meet your Host, Denny Farrell, Big Band Hall of Fame inductee and winner of the National Ballroom & Entertainment Association's award for his outstanding radio show, the Original Big Band Showcase. Denny is one of Chicago's very own and has been named as the radio voice of the Sun Valley, Idaho Swing and Dixie Jazz Jamboree. Denny is rated as one of the top broadcasters in the country in this very distinctive format that combines Swing, Sweet, Dixieland and Jazz.
Denny's background is like a who's who in the Big Band/Jazz industry. Announcing chores have tied him to such greats as Frank Sinatra, Count Basie, Tony Bennett, Duke Ellington, Ralph Marterie, Harry James, Bob Crosby, Sammy Kaye, Ella Fitzgerald, Mel Torme, Buddy Rich, Glen Miller Orchestra, Artie Shaw, Benny Goodman, Guy Lombardo, Maynard Ferguson, Red Norvo, Helen Forest, the Jimmy Dorsey Orchestra with Lee Castle, Tommy Dorsey Orchestra with Buddy Morrow and Peggy Lee. I have been extremely honored over the past many years to share the talents of the great vocalists and orchestras of our time on radio. Those of you who have listened to my radio show, the Original Big Band Showcase, know that I'm very particular about who I play. It has been my pleasure to add to that long list of entertainers LAWRENCE BRANCHETTI to our "family of greats" singers. It's good to have you with us Larry. All of you "good music" lovers are in for a real treat.
Denny Farrell
Radio Host
Big Band Hall of Fame Inductee

Booking Information
Click here to contact Lawrence Branchetti.
Italian festivals, conventions, weddings, corporate functions, concerts , & night clubs
North America or Europe - Italy, Germany, England, Spain, Paris
South American: Brazil, Chile, Argentina, Colombia