Articles & Interviews

Articles & Interviews
The Original Big Band Showcase
Web Site: www.dennyfarrell.com
Music Request: requests@dennyfarrell.com
Toll Free calls: 1-866-625-4475
Larry and I met back when I was inducted into the Big Band Hall of Fame.
Larry and I have been friends for many years now. Larry is the kind of guy that makes good unforgettable music. We are friends in music.
Larry is a very compassionate about his music. I respect that compassion very much. Larry has always been generous with his time. Larry sense of humor is from the days gone by if it is funny…. Larry laughs. Unlike so many today, that laugh just to laugh. Larry is sincerer not only in his singing but also in being a real person. Especially in a world today where there is very little sincerity/compassion to go around.
Whenever you recognized by your peers for the work you have done is not an easy task. It is what most entertainers I would think would love to have an honor bestowed upon them. Congratulations to Larry
Larry and I look forward to sharing the stage someday, Larry the entertainer me the Announcer we have talked about it for many years now and truly look forward to a time when Old School talent will shine like the brightest star ever witnessed.
~ Denny Farrell

Branchetti honored by the International Association of Italian Libraries and Archives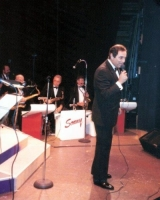 BRANCHETTI HONORED BY THE ITALIAN TRIBUNE OF NEW JERSEY CHIEF EDITOR MR. BUDDY FORTUNATO
(Click for Article)
LAWRENCE BRANCHETTI is an Italian American entertainer from the town of Aliquipppa, Pennsylvania Mr. Branchetti's family originally from Barrea (Abruzzo Regione of Italy) with family still residing in Pescara. Branchetti had the Privilege to perform with Frank Sinatra live on a world-wide radio broadcast with the Legendary radio host Denny Farrell of the Original Big band Showcase out of Chicago. Lawrence was also Honored By the International Association of Music and Music Archives in 50 different countries, alongside Tony Bennett, and Andrea Bocelli in October of 2019. He has recorded more than a 160 songs which can be listened to on 1200 AM FM radio stations around the world. You can visit his web site at www.branchetti.com


Famous book author Denyse Bridger for the Italian Son and Daughters of America
Italian Journale MY Paesano
Our Musica La Voce di Vita feature continues, this time featuring Italian American, Lawrence Branchetti…
Interviewed by Denyse Bridger
Lawrence Branchetti was born of Italian decent in the quaint town of Aliquippa, just outside of Pittsburgh. Noted for it's great sports figures and musicians, Aliquippa has produced legends such as Mike Ditka, Tony Dorsett, Henry Mancini and...
Branchetti recently was included in that list of famous people.
Branchetti's passion and love for music started at the very young age of 8, As a young boy, Branchetti was greatly influenced musically by his loving parents, who always listened to great performers such as Sinatra, Martin, Bennett, Billy Eckstine, Nat King Cole, and others. This early influence began to shape Branchetti's musical career.

Download PDF