Links

ISDA 2016 National Convention

The 2016 National Convention will be held Saturday, August 6th through Wednesday, August 10th at the brand new The Margaritaville Hollywood Beach Resort located just outside Fort Lauderdale, Florida.
For booking information (including resort group rates), please contact Angela Hughes at ahughes@orderisda.org or 412.261.3550.


The Macular Degeneration Foundation

Mr. Branchetti is the official Spokesperson for the Macular Degeneration Foundation.

St. Jude Research Hospital

Mr. Branchetti promotes fund raising events to raise money for St. Jude Research Hospital

The National Italian American Foundation

The National Italian American Foundation (NIAF) is a nonprofit, nonpartisan educational foundation that promotes Italian American culture and heritage. NIAF serves as a resource on the Italian American community and has educational and youth programs including scholarships, grants, heritage travel, and mentoring.

Lawrence Branchetti has always been a strong supporter of NIAF and is on our contact list when we reach out to media contacts.

Elissa Ruffino
Chief Brand Officer and Director of Communications

The Order Sons of Italy in America

The Order Sons of Italy in America® (OSIA) is the largest and oldest national organization for men and women of Italian heritage in the United States. Founded in 1905 as a mutual aid society for the early Italian immigrants, today OSIA has more than 600,000 members and supporters and a network of more than 650 chapters coast to coast, making it the leading service and advocacy organization for the nation's estimated 26 million people of Italian descent. Its missions include encouraging the study of Italian language and culture in American schools and universities; preserving Italian American traditions, culture, history and heritage; and promoting closer cultural relations between the United States and Italy.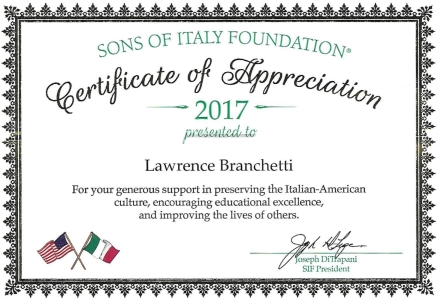 SPECIAL RECOGNITION OSIA NATION ITALIAN AMERICAN MAGAZINE WINTER EDITION 2011
Lawrence Branchetti has received the 2011 U.S. Commerce Association Award in Entertainment and Production. Contact him for performing at your next Italian Festival.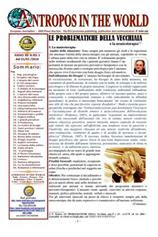 Antropos Giornale In The World
Il giornale di Salerno. Redazioni: Salerno, Pagani, Angri, San Valentino Torio, Trapani, Bergamo. Direttore: Rosa Maria Pastore Direttore resposabile: giornalista Dott. Franco Pastore

Golden Media Productions

Golden Media Productions (GMP) offers travel video marketing & destination promotion and exposure in leading magazines, television and radio


Famous Residents of Beaver County, Pennsylvania
Lawrence Branchetti is cited by "Absolute Astronomy" as one of the famous residents of Beaver County, PA.
Other famous residents include:
Tony Dorsett (NFL Player, Pro Football Hall-of-Fame)
Mike Ditka (NFL Hall-of-Fame)
Joe Namath (Pro Football Hall-of-Fame)
Pete Maravich (National Basketball League Hall-of-Famer)
Henry Mancini (composer of "Moon River" and "The Pink Panther Theme")
Click here to view all of the famous residents of Beaver County, PA (scroll down the page to "Famous Residents").