Radio Shows

| | | |
| --- | --- | --- |
| Frank Sinatra | - and - | Lawrence Branchetti |
| "The Voice" | | "The Golden Voice" |
Frank Sinatra and Lawrence Branchetti Special Guest Singer
December 12th, 2015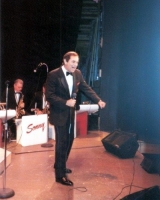 "Remembering Frank 100 Years"
Celebrated one-hour World-Wide International Broadcast Musical Extravaganza honoring Frank Sinatra's music for his 100th birthday, featuring the natural showmanship of all-star singer/entertainer Lawrence Branchetti.
Branchetti was bestowed the honor and opportunity to perform alongside Frank Sinatra on the show performing his great classics.
Branchetti stated this truly a dream come true... "one that I will always remember and cherish... what an opportunity and a Christmas gift. My best regards go out to the producer of the special broadcast".
For more information contact Branchetti directly at lizprod@aol.com.

Dick Robinson's American Standards by the Sea
The Society for the Preservation of the Great American Songbook presents "Dick Robinson's American Standards by the Sea" heard and seen all across the United States and around the world on great radio and TV stations and 24-7 from their web site: American Standards by the Sea - Syndicated Radio, CT
Listen to Branchetti on "American Standards by the Sea"

DENNY FARRELL.COM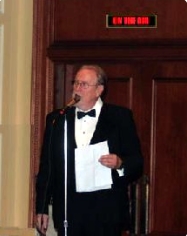 Late Night Chicago Radio
Denny Farrell is rated as one of the top broadcasters in the country in his very distinctive format that combines Swing, Sweet, Dixieland and Jazz. Denny's background is like a who's who in the Big Band & Jazz industry.
Denny Farrell radio
The Original Big Band Showcase
The Denny Farrell Big Band Radio Show, has one thing, his program has, and that is creditability for playing only the best.
Tony Bennett & Denny Farrell

Count Basie Announcer
1980's Denny Farrell

Celebrity Radio by Alex Belfield
| | |
| --- | --- |
| | Alex Belfield interviews the biggest stars and reviews the world's top destinations, productions, attractions and restaurants. Belfield has broadcast on over 80 Radio Stations in the UK. He has appeared nationally on BBC Radio 2, BBC Five Live & Capital Gold. In 2013 celebrityradio.biz officially attracted 6.1 million minutes viewed via YouTube. |
Enjoy Celebrity Radio's exclusive Lawrence Branchetti interview...

Radio Italy Live New York
The World's #1 Station for Italian Music. Live from New York City. Since 1998. Italian music only! Live streaming from Manhattan, New York.
Lawrence Branchetti is a "Friend of Radio Italy Live New York".
Friend of Radio Italy Live New York
Lawrence Branchetti
Lawrence Branchetti, an Italian/American entertainer, sings the classics songs of Gershwin, Cole Porter and more in the style of Dean Martin and Frank Sinatra.